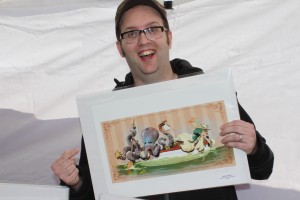 Gaslight Gathering stopped in to see our Artist Guest of Honor, Brian Kesinger, at the Geek Chic Artisan event at Clockwork Couture this past Saturday. Some of the highlights included Brian signing his first tshirt and selling his newest Otto and Victoria creation entitled "Docto Who"! We'll be displaying it at our Gaslight fan table at Gallifrey One Convention this coming weekend!
Plus he got to meet Director Guillermo del Toro, who stopped by to check out the festivities! It was an incredible day!!!
Saturday evening, Brian's artwork was exhibited in the SteamPOP Exhibition at the Rothick Art Haus. We dropped in and enjoyed all the incredible art on display including Brian's steampunk Avengers, Darth Vader, and Boba Fett! The exhibit will be open until March 2, 2013. Check it out!!!