Merchants & Makers
---
Gaslight Gathering is proud to have these vendors May 12-14, 2017
Take to the vendor hall and find your next steampunk bauble or your very first outfit. Our vendor hall features a fanciful array of Steampunk makers, Victorian fashion designers, cosplay creators, one-of-a-kind artists and fandom resellers.
---
Her art is a mixture of vintage, reclaimed, metalwork, fibers, and upcycleness all rolled into one. Lindsay Rae started out majoring in photography before finding herself in applied design at San Diego State. After college the need to create hit her and she started making jewelry.
Then she found Steampunk….
The fun of reusing vintage and working with many new techniques led to creating hat pins, hair sticks, and the curious collection of creatures she calls "Bugs". Today you can find her work at conventions, vintage shows and local art shows.
---
Kyla's Keepsakes
Handmade Steampunk, Victorian, and Wonderland items; including clothes, jewelry, journals, hair and hat accessories.
Kyla uses vintage pieces, feathers, and old jewelry parts to create her artwork. She does custom work, troupe pieces, and special occasion pieces.
---
The Puzzalarium
We provide to the general public several entirely non-fatal experiences, as well as Escape Rooms: Rooms full of puzzles that you and your friends are locked into and must find the key to and escape from before time runs out. Solve the mystery and get out before it's too late, else-wise you may just be locked inside forever.*
Now accepting reservations.
*Or until IT gets you. Whichever. We're easy.
---
TungstenWolf
Steampunk, armor, costumes, props, and art.
---
 Blue Bottle & Lackin
Purveyors of Fine Goods and Accouterments, Fancy Hats, Millinery, Tobacconist, Sterling Silver and Haberdashery.
Blue Bottle & Lackin specializes in antique & vintage accessories, clothing, brass and bits 'n pieces for the Steampunk and Cosplay Kingdom!

---
Boston Metaphysical Society Comic
 
An ex-Pinkerton detective and his spirit photographer partner battle supernatural forces in late 1800's Boston. A six issue steampunk supernatural comic and an anthology of short stories and novellas written and created By Madeleine Holly-Rosing. Art By Emily Hu.
Boston Metaphysical Society:Prelude is an anthology of novellas and short stories based in the same universe. Available at Amazon (print and eBook) as well as Nook, iTunes, Kobo, etc.
---
 Bailey-Denton Photography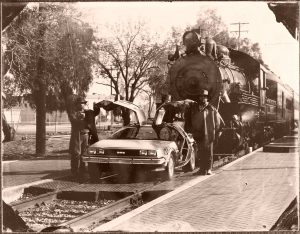 The wet-plate process was the height of photographic technology during the latter-half of the 19th century. The photography is ideal Civil War re-enactments, Old-West groups, Steampunk Gatherings or any group with historical leanings. Each picture is a unique piece of art that will last for centuries. They also have available for purchase an assortment of genuine mid-19th century photo cases of various size and design.
Bailey-Denton Photography is a traveling photography studio dedicated to the preservation of wet-plate photography. They are available for gatherings throughout Southern California.
---
 Steamtorium
" Besides sewing and creating original items, I love to rescue previously owned garments and upcycle them into one-of-a-kind unique items, giving them new life and purpose with a Steampunk aesthetic. I clean and examine each garment and handmake all upcycled modifications. The upcycling I do may include altering a garment, adding trims, embellishments, new buttons, lacing, overdying, etc. See what's new in my Etsy shop."
---
Laced Up Corsets
If you looking to reduce your waist and get that perfect shape, grab yourself a corset!
GET LACED UP! GET FABULOUS!
---
Cottage Emporium
We carry various costume accessory items and make items for Fairies, Renaissance, Pirate, and Steampunk. We are also the creator and manufacturer of Wizafir prosthetic ears.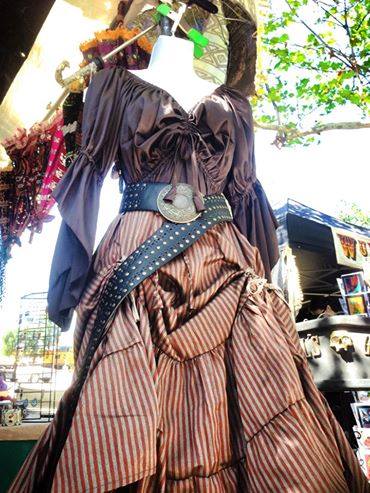 ---
Steampunk Fortress
Website
---
Hattitude
---
Nancy Hay Designs
---
The Mountain Druidess
Where magical intentions are born and nurtured. Alchemy, Paganism, Wisdom, and Ritual. Expect great magical things this winter. We are working on some great ritual items in addition to jewelry.
---
Perpetual Motion Creations
With life-long theatrical & artistic experience in just about every possible related medium, Paula began designing jewelry made from found, upcycled, or donated materials about five years ago.
Paula shares her tiny studio with her Super-Genius hubby, Andy (Cameron Theatrical Designs), and their two-rescued canine-kids, Stella & Gonzo.
Specializing in strange or unusual requests, Paula thrives on challenges, and considers herself a true rebel & maverick crafter.
Paula's love for all things Halloween & Upcycling seemed to go so well with her love of the combined romantic Victorian with Punk Rock leather & spikes. Once called "weird" for her unorthodox pairing, years later Paula came to find out that her favorite style actually had a name – "Steampunk".
So – whatever you're able to dream up, Perpetual Motion Creations (sometimes partnered with Cameron Theatrical Designs) will be able to make those dreams a reality!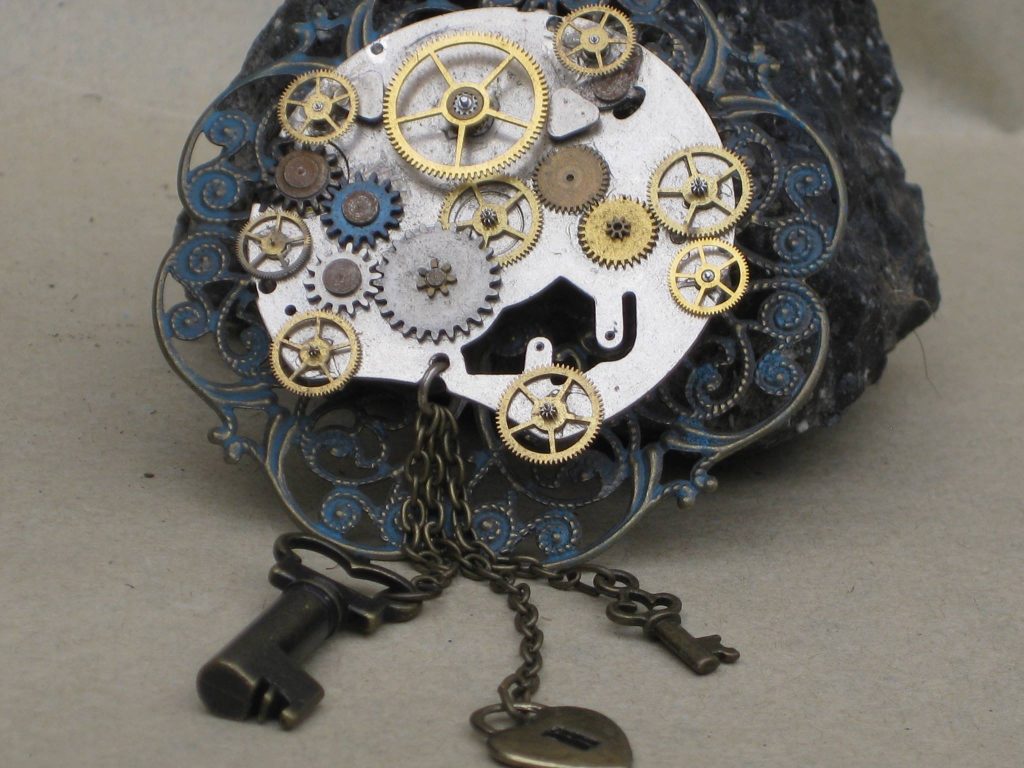 ---
Pendragon Quills & Seals
Selling Quills, Wax Seals, Sealing Wax and Sealing Accessories
---
Baron's Beauties
---
Gears and Roebuck
Steampunk Costumes, Goggles and other uniquely Steampunk accessories
---
Gear Oils
"Creating optimal health, with aromatherapy, to keep your body running like a well-oiled machine." Also providing pharmaceutical nutritional supplements.
---
 Kansas Mercantile
The Kansas Mercantile started out as a Civil War Sutlery and has expanded to carry all era historical sewing patterns, sewing supplies , and is a retail store specializing in nineteenth century civilian items.
---
Haunted Memories Changing Portraits
Inspired by the spooky changing paintings in Disneyland's Haunted Mansion attraction, artist Edward Allen took the concept one step further by creating his own spooky changing portraits based on real antique photographs. Mr. Allen's macabre artwork is photo-realistic and nearly all of his characters feature multi-stage transitions, which makes them extra spine-chillling. If you're looking for the best spooky changing portraits on the market, you've found them at "Haunted Memories!"
---
 S.B.K. Burns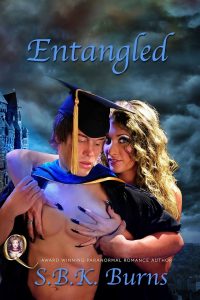 From an early age, S.B.K. Burns recited Shakespearean sonnets and would sneakily read Broadway scripts from her parents' theater magazine.
Having worked in the world of oceanography, bio-medicine, and aerospace engineering; she brings these experiences to her sci-fi paranormals and imbues them with her idealistic philosophy that merges science and spirituality.
Burns happily lives in San Diego with her handsome, compassionate, and kind beta men—her husband Jim and her twenty-something son Peter.
---
Lost Travelers
---
Darn Tootin' Studios
We are visual storytellers providing original art, characters and stories since 2009.
Darn Tootin' consists of two artists: Alejandro Lee and Rocky Olivares. Together, we are creators in every sense: whether we make our own food, or make our own entertainment. We love great design, and theatrical storytelling!
---
Wyng'd Lyon
Purveyors of custom clothing and other various works of art, based in San Diego, Ca

---
 The Bearded Potter
Handcrafted ceramic pottery is a long and prestigious profession that reaches far back in all cultures in history. Unfortunately, because of societal demands, the art of hand crafted pottery has become a thing of the past. These days, one can purchase a large variety of inexpensive ceramics made by the thousands in far away factories using molds and cheap labor to fulfill the needs of growing populations.
"Hand Made" is a thing of the past.
As The Bearded Potter I have come to the conclusion that this needs to change. There are those of you out there who appreciate a beautiful, and functional, hand crafted vessel and it is my goal to bring back to life the dying art that is Handmade Pottery.
---