Gaslight Gathering Guests
---
Gaslight Gathering is excited to bring you the many talents of our wonderful guests.
Please be sure to check back as we add more amazing and talented guests and performers.
---
Doc Phineas (aka Kenneth Kastler), Time Traveler and Showman extraordinaire
---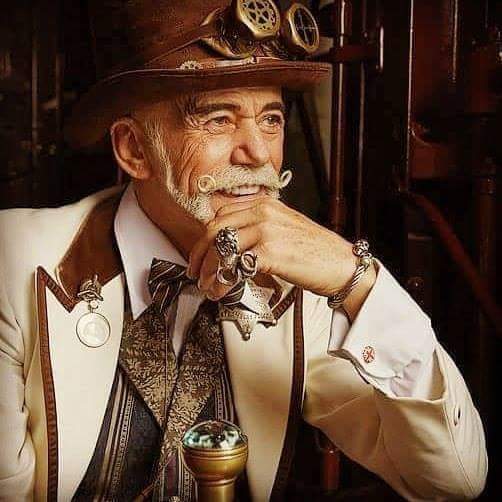 Doc Phineas is the world's leading authority on antiquities featured on the History Channel on Best of Pawn Stars, Treasure Quest, Antique Roadshow, and HGTV Awesome Interiors.
He is currently starring in the new movie " To See The Elephants" and is President Of the Steampunk Guild Internation. He is also the producer of Steamathon in Las Vegas and the founder of the Steampunk Imaginarium and the League of Extraordinary Professors.
Doc Phineas is a Professor of Archaeology and Antiquities for 45 years.
---
Chief Inspector Erasmus Drake and Dr. "Sparky" McTrowell
---
David L. Drake and Katherine L. Morse are the award-winning, San Diego-based authors of "The Adventures of Drake and McTrowell – Perils in a Postulated Past," a serialized steampunk tale detailing the adventures of Chief Inspector Erasmus Drake and Dr. "Sparky" McTrowell.
The duo's many adventures are provided in weekly penny dreadful-style episodes on the web (www.DrakeAndMcTrowell.com). They have produced four novellas since 2010: "London, Where it All Began," "The Bavarian Airship Regatta," "Her Majesty's Eyes and Ears," and "The Hawaiian Triple Cross." Drake and Morse won a Starburner Award for the radio show based on their first story that has run multiple times on Krypton Radio.
When not cosplaying their alter egos at conventions all over the West, they are both research computer scientists specializing in distributed modeling and simulation. Mr. Drake is a nationally ranked foil fencer. Dr. Morse is an internationally respected expert on standards, but prefers to be recognized for her cookie baking skills. They throw awesome parties if they do say so themselves.
---