A Steampunk Victoriana Experience
Gaslight Gathering 8: Carnival
San Diego's original Steampunk & Neo-Victoriana Experience returns! Join us for a weekend of maker education, steampunk fashion, music and more.
 Doc Phineas
---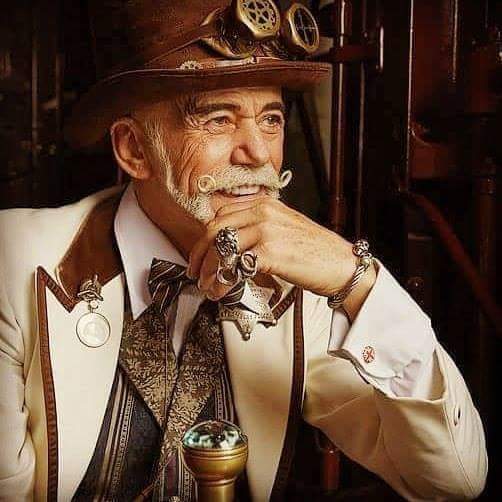 Doc Phineas has been a Professor of Archaeology and Antiquities for over 45 years and is the world's leading authority on antiquities as featured on: History Channel's Best of Pawn Stars, Treasure Quest, Antique Roadshow, and HGTV Awesome Interiors.
He is currently starring in the new movie " To See The Elephants" and is President of The Steampunk Guild International. He produces Steamathon, Las Vegas and is the founder of the Steampunk Imaginarium and The League of Extraordinary Professors.
Links & Social Media:
Facebook – Twitter – Instagram
---
 Drake & McTrowell

---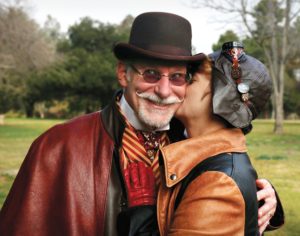 David L. Drake and Doctor Katherine L. Morse are the award-winning, San Diego-based authors of "The Adventures of Drake and McTrowell – Perils in a Postulated Past," a serialized steampunk tale detailing the adventures of Chief Inspector Erasmus Drake and Dr. "Sparky" McTrowell.
The duo's many adventures are provided in weekly penny dreadful-style episodes on the web (www.DrakeAndMcTrowell.com). Drake & McTrowell have produced four novellas since 2010: "London, Where it All Began," "The Bavarian Airship Regatta," "Her Majesty's Eyes and Ears," and "The Hawaiian Triple Cross." Drake and Morse won a Starburner Award for the radio show based on their first story that has run multiple times on Krypton Radio.
When David & Katherine are not cosplaying as their alter egos all over the West, they're research computer scientists specializing in distributed modeling and simulation. Drake is a nationally ranked foil fencer. Morse is internationally respected as an expert on standards, but prefers to be recognized for her cookie baking skills.
They throw awesome parties if they do say so themselves.
Links & Social Media:
Facebook – Website
---
Dyno Staats

---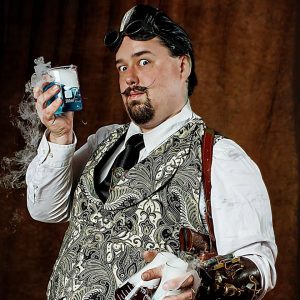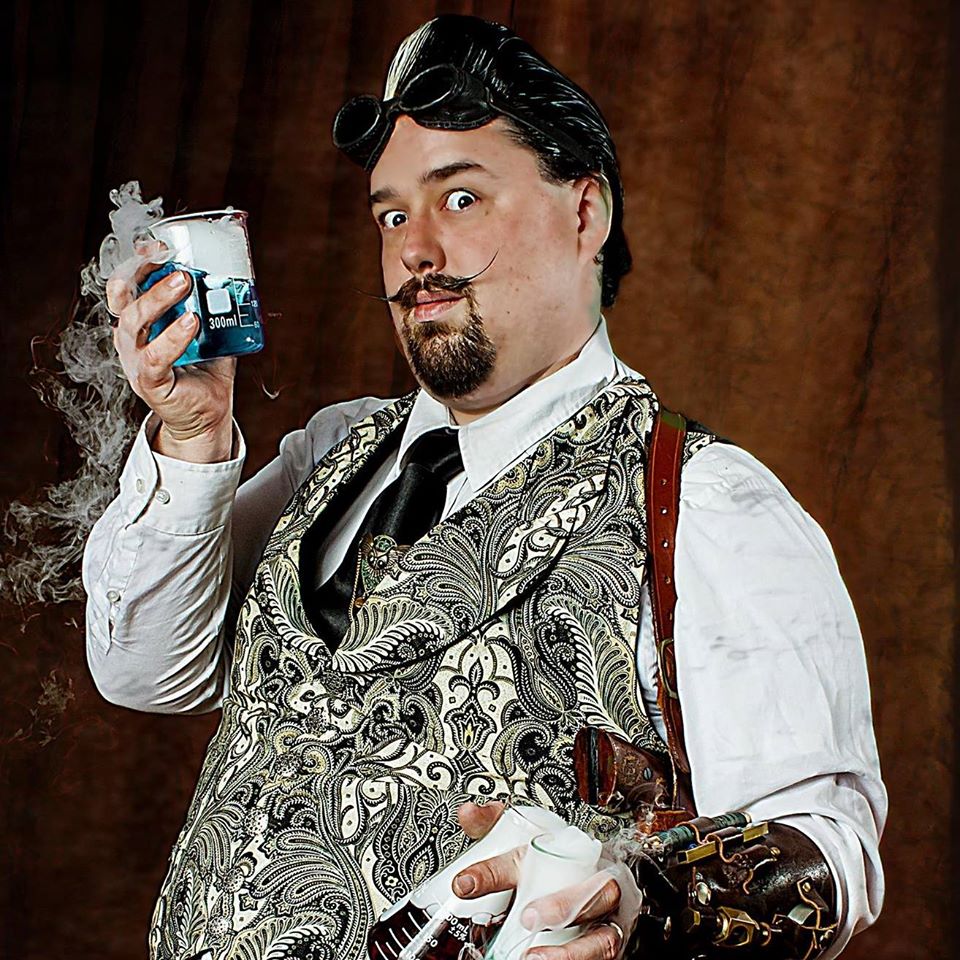 Dyno Staats has been making his name in magic since 2004. He started learning and performing while working at Disneyland Resort in Anaheim California. Since then, Dyno has traveled the country to share his talents with as many people as possible.
His smooth blending of magic and science bring about a wondrous experience for anyone who dares to watch.
Dyno made his first appearance on the Steampunk scene at Gaslight Gathering in May of 2011. He has since performed at numerous Steampunk events from the Queen Mary in Long Beach California to The Old Tucson Film Studios in Arizona.
In October of the same year, Dyno performed his first show in Las Vegas, Nevada at Jeff McBride's Wonderground, debuting his steampunk themed science to the magic community for the first time. After getting the magic community's attention, Dyno eventually became a member of the Academy of Magical Arts (The Magic Castle) on May 5th of 2014. He would go on to perform many times in Las Vegas (including many more times at the Wonderground) and in 2016 Dyno moved to Las Vegas to make performing magic his full time job.
Links & Social Media:
Facebook – Twitter – Instagram – Website
---
Starburner Galactic Courier Service

---
Starburner Galactic Courier Service is the galaxy's only bonded courier service operating throughout time and space…delivering sensitive documents, private communications and packets anywhere, anytime, in any dimension.
In reality, Starburner came about as the result of the need to publicly recognize those individuals who have made outstanding contributions to the Steampunk com
munity.
Beginning in 2009, members of the steampunk community have been singled out at Comic Con in San Diego and presented with achievement medals from the
House of Hutsell
for contributions in areas ranging from leadership and events coordination to gadgetry, costuming, music and general support of the community. The Starburner Galactic Courier Service is a non-profit organization.
Links & Social Media:
Facebook – Twitter – Instagram – Website
---
The L.O.S.E.R.s

---
The League of Supremely Evil Revolutionaries is a group comprised of Evil Geniuses, Femme Fatales, Mad Scientists, Rogues, Pirates, Thugs, Minions, Anarchists, and general Evil Doers bent on taking over the world and enslaving humanity for their own end.
In all actuality, they're the nicest folks you'll ever meet. The LOSERs are a Steampunk sub-sect of the performance guild HMS Stranglehold. They provide entertainment and shenanigans at every fandom event they can be at. Run by Dennis & Debbie Hanon, the LOSERs bring a sophisticated quirk to villainy as a form of entertainment!
Links & Social Media:
---